Faith leads us to use everything in our hands, so we can communicate with God and what is also better through the saints to intercede with God our Lord for our requests.
Since the time of the canonization of St. Faustina, she becomes a permanent theological presence in the reality of the "communion of saints ".
Often, just talking in front of a relic or sometimes by touching a Holy relic, has served to the Saint to intercede immediately with God our Lord to work miracles in the person quickly, reminding you that faith in God is very important, because that faith, is the cord that connects us to God, if there is no faith, there is no contact.
PRAYER TO BEG THE INTERSCESSION OF SAINT FAUSTINA
Saint Faustina, You told us that your mission would continue after your death and you would not forget about us (Diary, 281, 1582).
Also Our Lord granted you a great privilege, telling You: "Distribute graces as you want, to whom you want and when you want"(Diary 31).
Relying on this, I ask your intercession for the graces I need, especially
(Here, take a moment to mention your special intention)
Help me especially, to trust in Jesus as you did and thus to glorify His mercy every moment of my life.
Amen.
In Mexico City, in the Expiatory Church of Christ the King, Antigue Basilica of Guadalupe, there are two first class relics of St. Faustina Kowalska, one of them is permanently exposed on the altar to the Lord of Divine Mercy to be venerated right there in place and the other is pilgrim (bone of a finger of one hand) to visit the Parishes of Mexico City.

A new first class relic of St. Faustina Kowalska, received from in October of 2011 is venerated permanently in the Parish Mother of God ofCzestochowa, located in Fuente de Cibeles # 38 and Fuente de Trevi in Lomas de Tecamachalco, Naucalpan, Edo. Mexico. The relic was enthronedon February 26, 2012 in a solemn Mass presided by Bishop Carlos Briseño Arch, Auxiliary Bishop of the Archdiocese of Mexico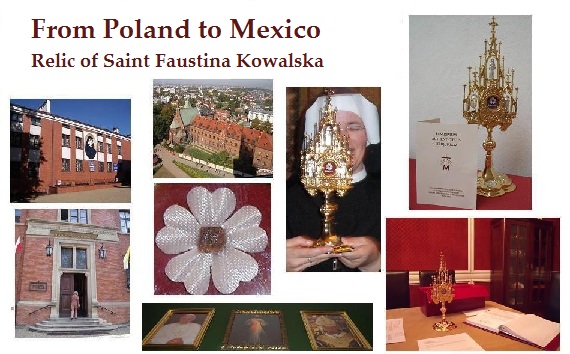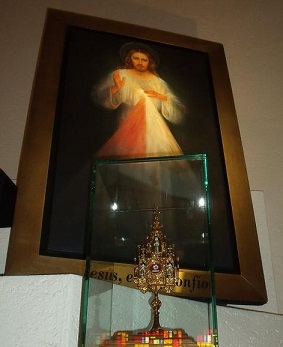 The relic was placed in front of the image of The Merciful Jesus (Oil made in Mexico City, copy of the first image of Merciful Jesus painted by Eugenio Kazimirowski in 1934 directed by St. Faustina Kowalska)